What we want
you to know!
NEW UPDATE JUNE 6, 2021
As of Sunday June 6, Zion's pandemic guidelines will be changing, in line with new guidance from CDC and the state of Ohio. Although the pandemic is not over yet, we give thanks that vaccines and diligence have greatly reduced the risk for most people. If you haven't yet been vaccinated, now would be a great time to check out the options for adults and youth, to protect yourself and others.
For worship and other events at Zion, we still ask that you stay home if you're running a fever, feeling sick (cough, congestion, trouble breathing, fatigue, aches, nausea, etc.), or are not fully vaccinated and have been recently exposed to someone who has tested positive.
Changes to our guidelines and procedures, effective June 6:
Masks optional, not required. Current recommendations are that adults who are not vaccinated, or have other health risks, continue to wear a mask over nose and mouth, especially when indoors with others, and maintain six feet of distance.
Sanctuary and balcony seats no longer restricted. You can find a seat where you like, at a distance from others that works for you.
Many other worship restrictions removed. We will sing more, pass offering plates, share the peace (using the least-hands-win rule), and open up worship roles to more people.
Additional communion options. Prepackaged communion elements will continue to be available for anyone who wants, but we'll also offer wafers and individual cups of wine.
The 10:45 livestream will continue indefinitely.
Children's Chat will continue by video through the summer, then return to in-person when Sunday School resumes on Rally Day.
The move to this "next normal" will call for many more people to be involved with each worship service, and we'll be working to phase back in more readers, communion servers, greeters, meeters, acolytes, ushers, and more. Some who have served in these roles in the past may not be able or ready to return right away. So please prayerfully consider how you can be a part of making worship a great experience for everyone. Mostly we look forward to gathering with you soon, in person, and we thank you for your prayers and support!

Previous updates are listed below for historical reference.

---
MARCH 27, 2021
This weekend's Palm Sunday services will be our first chance to be back together in person for worship! From now on, our plan is to offer three options for worship each Sunday:
8:30am worship in person; in the sanctuary for now, moving outdoors to the pavilion when weather permits
10:45am worship in person, in the sanctuary
10:45am worship at home by livestream
Since the pandemic risk remains high (Medina County is still at Red, and has recently been one of the top counties in Ohio for new cases per 100,000 people), we continue to recommend that you take into account your own risk (much lower once you are two weeks past your final vaccine shot!) and the risk to others.
If you are sick or have recently been exposed, please stay home. If you aren't ready to worship in person, that is OK, and we'll continue to work to keep everyone connected at home. If you decide to come and worship in person, be aware of our recently revised list of pandemic precautions to be ready and know what to expect. I look forward to seeing you, whenever the time is right for you!
On Easter Sunday only, we will also offer another worship option:
9:30am Easter "California sunrise" service – This will be held outdoors in and around the pavilion, rain or shine, warm or cool, so dress for the weather. You're also welcome to bring your own lawn chair if you like.
---
MARCH 14, 2021
Increasing vaccinations are a main factor in enabling us to gather again. We encourage everyone to get one of the vaccines at your earliest opportunity. After your final shot, and about two weeks' time for your body to develop its protections, your risk from the virus will be dramatically lower.

Since it isn't yet fully known whether vaccinated people can still spread the virus to others, we will be continuing with all recommended precautions, including masks, distancing, and not singing as a group. We expect we'll be able to remove those restrictions later this year.

It will be your decision whether and when you'd like to return to in-person worship. The 10:45am livestream will continue, hopefully forever, for anyone unable or not ready to attend in person. As always, pray and think about it, turn to proven sources of information you trust, and act with love for God, yourself, and neighbors.

The chart below shows our current virus case count in Medina County. New case numbers have fallen dramatically since their peak in December, but we are still having new cases at a higher rate than when the county went "Red" last fall. And over the last few days, the numbers have crept back up a bit. We pray that with patience and compassion while vaccinations continue, we can endure a little while longer of the precaution measures until the virus loses its ability to infect more people.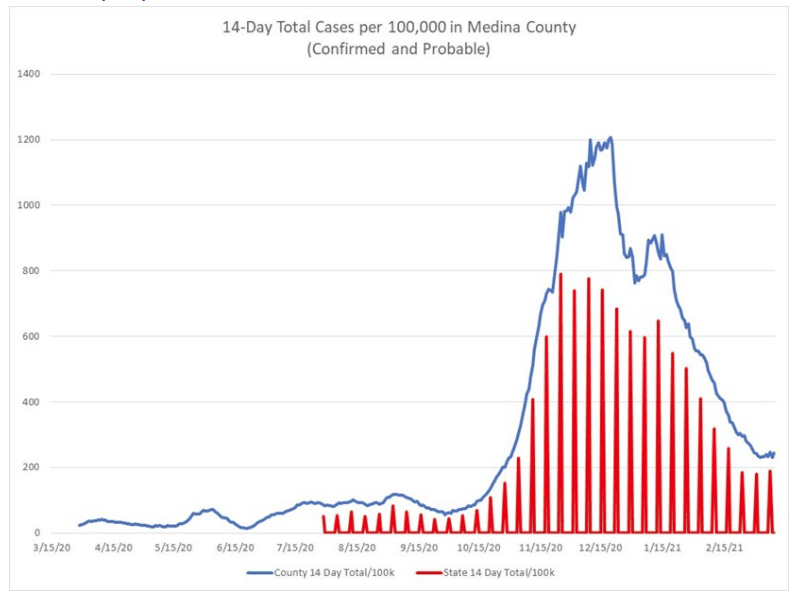 As always, help is available if you'd like to schedule vaccination but haven't been able to yet. The mass vaccination sites at the Wolstein Center and other locations will be coming online this week, and even local providers seem to be getting more doses. I would be glad to work with you, or help you find other resources. Just let me know!

We give thanks for improving conditions, and for the dedication of everyone who has been caring for others and working for solutions! And thanks be to God that we will be able to see each other again in person – some on Palm Sunday, and some soon after that!

Watch for more details coming soon. And may God be with you on your Lenten journey.
---
JANUARY 17, 2021
Vaccination News – Ohio statewide and local efforts will be coming together this week to make coronavirus vaccines available to more people. Registrations will be taken on this schedule:
Week of Jan 19 – 80 years of age and older
Week of Jan 25 – 75 years of age and older, and those with severe congenital or developmental disorders
Week of Feb 1 – 70 years of age and older, and employees of K-12 schools that wish to remain or return to in-person or hybrid models
Week of Feb 8 – 65 years of age and older
Please note that this is only when registration opens up. There are currently not enough doses available for everyone in these categories, so the actual date of vaccination may be later.
The information about registering is confusing. In the past couple of days, state and local authorities and some vaccine providers have posted more details. It seems that there is no central place to register. Instead, you may need to check out the providers and call to register with the one(s) best for you. Here are some documents I've found helpful:
I encourage everyone to check out your options and get vaccinated as soon as you can. Having a large percentage of the population vaccinated will be an important key to moving out of this pandemic! Unfortunately, the system is complicated and still emerging. If you find other useful information, please share, and I'll pass it on to Zion members.
---
JUNE 19, 2020
IN-PERSON WORSHIP IS BACK!
kind of…
8:30am Outdoor Worship – June 21, June 28, July 5, July 26
 As usual for our outdoor worship, we'll be in and around the pavilion.

 We'll arrange picnic tables and space for chairs, aiming for the goal of 6 feet or more between families. Please maintain that safe distance at all times.

 Wearing masks is strongly encouraged.
Consider your own health and the health of others. We ask you to stay home if:
* You are at high risk from the coronavirus pandemic:
* 50 years of age or more = intermediate risk; 70 or more = high risk.
* Any organ-system disease adds additional increased risk.
* You are running a fever, or feeling sick. Some covid-19 symptoms:
* Fever, cough, trouble breathing, congestion, fatigue, aches, nausea
* You have recently been exposed, or been to a place with higher virus spread.

Before coming to worship, we encourage:

* Contact the church office, 330-483-3873 or office@zionvc.org, to let us know how many will be coming from your family. This helps us plan for space and worship supplies.
* Bring a lawn chair for each person in your group.
* Bring your own bread and cups of wine / grape juice for communion.
* Remember to bring your mask.
* Use the restroom at home, to minimize exposure within Zion's building.

While you're at worship:
* Masked greeters/ushers will check temperatures, help you get a bulletin (no hymnals needed), place offerings in a collection container, and find seating.
* Some prepackaged communion wafers / grape juice will be available.
* Hand sanitizer and tissues will be available.

After worship:
* If you become sick soon after being at worship, contact the church office,
330-483-3873 or office@zionvc.org, and let us know. We'll work to inform
others who were at worship.
---
JUNE 6, 2020
Looking Ahead to Worship, with the Story of Job
This Sunday, June 7, also marks a couple of changes in our worship patterns.
One change is that we'll be omitting the liturgy music (Kyrie, Hymn of Praise, etc.) entirely. Partly this fits with the simpler pace of summer. Partly it's to get us ready for when we can gather larger numbers of people together for worship. Unfortunately, singing turns out to be one of the ways in which the coronavirus is most easily spread. So as much as we love music (Luther said, "Next to the word of God, the noble art of music is the greatest treasure in the world"), we'll need to find ways to appreciate it without singing it all together.
A second change is that this week starts our first summer season with the Narrative Lectionary. This means that our worship scriptures will be multi-week explorations of different parts of the Bible. We begin with five weeks in the book of Job. One of the "wisdom books," Job is praised for its poetic qualities and its rich, honest look at human suffering. It can be a difficult book to read, but it's worth the effort! I admit that when I first saw Job on the summer calendar, I wasn't thrilled. But as soon as the coronavirus hit and the effects of covid-19 and all our containment efforts started hitting, and especially with the recent focus on racial injustice, protests, and violence, I realized that Job's story is directly relevant to our life today! I can appreciate now how Job will help guide us through the suffering we see all around us.
In the coming weeks, the worship bulletin will include an outline of the book of Job. I'll also send you a full, easy-to-read version of the outline here. I hope it will help you keep track of where we are in the book, how it all fits together, and how we can understand its wisdom. You may want to keep a paper or electronic copy around to refer to.
And, if you'd like to view the whole worship bulletin for this Sunday, it's available here.
---
MAY 26, 2020
Good morning Zion members and friends,
We've had a number of questions about Zion's ongoing response to the coronavirus pandemic. Zion's Council has been working with a Health Team to make sure that we have the latest and best information about the state of the pandemic, and we're gathering recommendations from experts and other church leaders near and far. We definitely want to phase back toward "normal" and include more people in worship and other in-person events! But until the virus is completely contained, we need to make sure that we take those steps in a way that keeps everyone as safe as possible.
Since there's so much going on, and the situation changes every day, I thought it would be best to make a set of videos to explain where we are now, and where we might be going next. Council and others have now had a chance to see and give feedback on these, so I can pass them on to you. There are four "episodes," which you can choose to view one at a time, or "binge-watch" all at once. Here are the individual episode links:
In addition to continuing our Sunday morning worship livestream, and looking at options we might be able to add in the near future, we will be offering another congregational survey soon. When that comes out, please take the time to go through the survey and let us know how you're doing, any needs you might have, and your thoughts about which of the options we're considering would be best for you and your family.
All of Zion's leaders are praying and working hard to mark out the best path forward for us. Each member and friend of Zion, and each person in our community, is a beloved child of God, and we want you to be able to hear that good news and use your gifts for God's kingdom. Thank you for all your faithfulness and teamwork in finding our way in these times!
Peace,
Pastor Jim Watson
---
APRIL 29, 2020
Hello Zion members and friends! Please check the links below for updated Covid-19 updates and social distancing guidelines set forth by Ohio.gov.
Gatherings of more than 10 people are still prohibited. So I don't think this changes anything we talked about last Wednesday and since then, but affirms the decision to hold off in-person worship for now. I'd like the congregation to be aware that starting now and into the future, the governor listed some mandatory measures (most notably, wearing masks when around other people) and best practices:
Coronavirus.Ohio.gov
March 16, 2020
Hello, Zion members and friends. With new developments in Ohio and at the national level, we have decided to cancel most in-person Zion events. With the coronavirus pandemic spreading, we are acting in love for ourselves and our neighbors. The two practices that will be most helpful in the near future are:
1. Washing your hands well – watch for more information on this, and other personal prevention measures.
2. "Physical distancing" – greatly limit the number of people you're in close physical proximity to. This is the theory behind closing schools, banning dine-in eating in restaurants, and our own cancellations.
---
CANCELLATIONS & SCHEDULE CHANGES
March 16, 2020
At Zion, we are adapting to this new environment as well. Here's what it will mean for us, effective immediately and until futher notice:

* All Sunday services and Sunday School will be canceled.

* All Wednesday evening activities will be canceled, including soup suppers, worship, Confirmation, Kids' Club, Junior and Senior Choirs.

* The Passion Walk will be canceled for this year.

* Easter breakfast will be canceled, even if we're able to restart worship services that soon.

* All non-essential in-person meetings will be canceled, or replaced with a call-in or online meeting.

* Communion instruction classes will be suspended, and a future Sunday will be chosen when our young people can receive their first communion with a full crowd. I will give times for all families to catch up any missed sessions.

* Confirmation classes will also be suspended. We are keeping April 19 in mind for Confirmation Sunday, but it may be necessary to reschedule that as well. Some classes will need to be scheduled after that date to make up for missed time.

* In-person visits by me, Care Team members, and home communion visitors will be suspended. Currently, clergy are allowed to visit restricted institutions for end-of-life care. Please call my cell number if you have any pastoral care needs of any kind, and I'll work on the best way to be present with you.

* Zion's leaders will be working on new ways for us to be the church while we can't meet in person. Watch for more news, hopefully coming soon.

* Offerings can be mailed in to the church any time, which will help Zion remain financially stable during this time. Additionally, we had already started the process of registration for electronic giving. Again, watch for more information soon about that option.

* We encourage everyone to pray for all who are affected by the coronavirus and by the measures being taken to address it!

* We also encourage everyone to reach out to others by phone or electronic means. Stay in touch, offer a prayer, or just tell someone you're thinking of them.

* Contact me, a Council member, or a Care Team member for special needs that you become aware of, yours or someone else's.

* We will try to keep Zion's office open between 9am – noon on weekdays, but we ask everyone to limit personal contact to essential activities.